Safeguard Your Training Investment

We are trusted by




You can read full details of what's included below, but here's a snapshot of some of the key benefits you'll gain from this online training:
Online Training, Exam, & Certification
180 days of Unlimited Online Access
Robust International Certification
Reliable Skills for Any Industry
Good to Know:
This course is perfect for beginners. The skills you learn are suitable to Scrum Team Members in any industry.
This course is great combined with Scrum Master Certified, Scrum Product Owner Certified, & Agile Master Certified.
Your online exam and Scrum Developer Certified (SDCTM) certification are included in the course purchase price.
What's Included
What's included in our Scrum Developer Certified Online Course:
180 days of online access to our training portal (this includes both Scrum Fundamentals Certified and Scrum Developer Certified materials).
A user-friendly online interface.
Work divided into 12 chapters.
75 high quality videos. Each video shows a clearly outlined duration to help you map out your study time.
Your own PDF copy of "A Guide to the Scrum Body of Knowledge (SBOKTM Guide)" – the companion textbook for anyone studying Scrum.
An interactive case study which allows you to test your knowledge on different Scrum processes.
Chapter Tests to solidify your understanding of each module.
Glossary and Flash Cards to support your study.
Mobile app enables you to study wherever you are.
Progress Tracking keeps you focused on achieving your study goals.
Online Scrum Developer Certified (SDCTM) exam
Scrum Developer Certified (SDCTM) certificate
Who Takes This Course?
Who is this Scrum Developer Certified Online Course Designed For?
A "Scrum Developer" refers to anyone who works on a Scrum Team. The term "developer" is simply a hangover from Scrum's origins in software development. The skills and knowledge you'll gain during this online course are applicable to Scrum in any sector.
This course is very popular with anyone progressing to Scrum Master Certified, Scrum Product Owner Certified, or Agile Master Certified.
It is an important training and certification for anyone who will work as part of a Scrum Team.
We also recommend this for business owners and leaders who will have Scrum project management as part of their project's culture.
What's Covered
What is covered on this online Scrum Developer Certified course?
There are 12 modules (chapters) on this Scrum Developer Certified Course. Let's review what's covered in each chapter:
Introduction to Scrum
Overview of Scrum
History of Scrum
Why Scrum?
Introduction to the SBOKTM Guide (A Guide to the Scrum Body of Knowledge)
Scrum v Traditional Project Management
Scrum Principles
Scrum Roles
Empirical Process Control (3 Pillars of Scrum)
Self-Organisation
Collaboration
Value-Based Prioritisation
Time-Boxing
Iterative Development
Scrum Organisation
Roles within the Scrum Team
Scrum Product Owner
Scrum Master
Scrum Team
Scrum in Project, Programs, and Portfolios
Summary of Responsibilities
HR Theories and Scrum
Business Justification
Introduction and Importance of Business Justification
Value Driven Delivery
Techniques for Business Justification
Continuous Value Justification
Quality
Quality, Scope, and Business Value
Acceptance Criteria
Prioritised Product Backlog
Quality Management in Scrum
Quality Control and Assurance
Change
Change in Scrum
Integrating Change
Change in Portfolios and Programs
Risk
What is Risk?
Risk Identification and Assessment
Risk Prioritisation, Mitigation and Communication
Minimising Risks through Scrum
Risks in Portfolios and Programs
Initiate
Create the Project Vision
Identify Scrum Master and Stakeholder(s)
Form the Scrum Team
Develop Epic(s)
Create Prioritised Project Backlog
Conduct Release Planning
Plan and Estimate
Create User Stories Process
Estimate and Commit User Stories and Identify Tasks
Estimate Tasks Process
Create Sprint Backlog Process
Implement
Introduction to Implementation and Creating Deliverables
Conduct Daily Standup
Groom Prioritised Product Backlog
Review and Retrospect
Demonstrate and Validate Sprint
Retrospect Sprint
Release
Ship Deliverables
Retrospect Project
Your Exam
About Your Online Scrum Developer Exam
The online Scrum Developer Certified (SDCTM) exam is included in your course price. Here's what you need to know about this exam before you get started:
Scrum Developer Certified (SDCTM) is an online, proctored exam.
You will need a webcam and a steady, reliable broadband internet connection for the duration of your exam.
The exam is 90 minutes long.
You will have 180 days of access from the date you first access the online portal to study and prepare for your exam. You decide when you're ready to schedule your exam.
When it's time to schedule your exam, navigate to the FAQs section of your online portal. Here, you can download a step-by-step guide that walks you through your exam scheduling process.
Once your exam has been scheduled, you will receive an email confirmation of your exam time and date. This email includes detailed instructions for joining your online exam. (Don't forget to check your junk mail and spam folder for your exam confirmation)
Please take time to read through the exam instructions carefully and note when you will need to log on for your online exam.
You will need to switch on your webcam, speakers and microphone for the duration of the exam.
The exam includes 75 multiple choice questions.
You may skip questions and / or mark them to revisit before the end of the exam. Negative marking is not applied.
If you fail, you may retake the exam a further two times free of charge.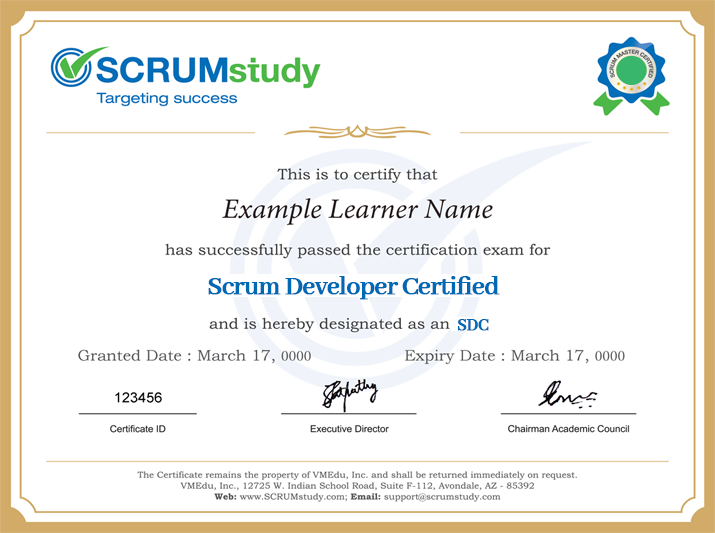 Why Choose This Scrum Certification?
Our online courses lead to SCRUMstudy certifications. SCRUMstudy is the largest established provider of Scrum and Agile qualifications worldwide.
By opting for this Scrum Developer Certified (SDCTM) training and certification, you'll gain the many benefits SCRUMstudy students enjoy. These include recognition, exceptional resources, versatile skill-sets, and an engaged online community.
Frequently Asked Questions
Learn Scrum On The Move
Stay Connected
Keep your learning momentum going wherever you are. With access to the handy mobile app for your online Scrum course, you can study on your own schedule.
Scrum Online Benefits
Robust Certification
The SCRUMstudy certifications you'll achieve with us are respected and recognised all over the world.
Learn from Home
Online training means you don't have to travel anywhere to get skilled and certified.
Skills for Every Industry
With our online training, you'll learn skills you can apply in any kind of business or situation.
Track Your Progress
Chapter tests and progress trackers help you to stay focused and lock in your learning as you go.
Scrum Fundamentals
All our online Scrum & Agile courses include the Scrum Fundamentals Certification (SFCTM).
Accessibility
You'll also gain access the mobile app, so you can get access to all course material on the go.
Ready to get Scrum Certified?

Online Training, Exam, & Certification – Boost your credibility and advance your scrum knowledge, role and career.
Join the long list of clever companies