Safeguard Your Training Investment

We are trusted by




You can read full details of what's included below, but here's a snapshot of some of the key benefits you'll gain from this online training:
Online Training, Exam, & Certification
180 days of Unlimited Online Access
Robust International Certification
Reliable Skills for Any Industry
Good to Know:
No Scrum or project management experience is needed for this course.
You'll gain versatile Scrum Product Owner skills that you can apply in every industry.
Both your exam and certification costs are included in the course price.
What's Included
What's included in our Scrum Product Owner Certified Online Course:
180 days of access to the Scrum Product Owner online learning portal.
Scrum Fundamentals Certified (SFCTM) – an online course introduction to Scrum – is included with your Scrum Product Owner purchase. It contains approximately 10 hours of material and resources.
Easy-to-navigate interface.
Mobile app available for study on the go.
31 engaging videos with clearly outlined timelines to support your study plan.
A PDF copy of A Guide to the Scrum Body of Knowledge (SBOKTM Guide) – your essential textbook companion for studying Scrum and Scrum Product Owner materials.
An interactive case study that enables application of your learning to a "real-life" situation.
Chapter Tests to test your knowledge at the end of each chapter.
Glossary and Flash Cards to support your study.
Progress Tracking.
Your online exam and Scrum Product Owner (SPOCTM) certification.
What's Covered
What is covered in this online Scrum Product Owner course material?
The course material is broken into 6 chapters (modules). Let's take a look at what you'll cover in each chapter.
Agile and Scrum Overview
Agile and Scrum Principles
Scrum Aspects and Processes
Scrum Roles
Scrum Principles
Scrum Characteristics
Advantages of Scrum
Introduction & Overview
What is Agile?
Why use Agile?
Maintaining Stakeholder involvement
The Agile Manifesto
Sprint Retrospective Meeting
Product Backlog Grooming
Agile Methods
The Chief Product Owner
Planning in Scrum
Scrum Summary
The Product Owner
The Scrum Team
The Scrum Master
Scrum Flow
Requirements in Scrum
Prioritising the Product Backlog
Adaptive Project Management
Scrum Planning
Sprint Planning
Acceptance Criteria Done Estimation
Importance of Value
Risk Burndown Graphics
Scrum Board
Sprints
Implementation of Scrum
Sprint Planning Meeting
Understanding the SPO's role
Task Estimation
The Sprint Backlog
Scrum for Large Projects
Daily Stand Up Meeting
Sprint Review Meeting Overview
Distributed Teams in Scrum
Your Exam
About Your Online Scrum Product Owner Certified (SPOCTM) Exam
Here's what you need to know about your online Scrum Product Owner Certified (SPOCTM) exam before you get started:
Scrum Product Owner Certified (SPOCTM) is an online, proctored exam.
You will need a webcam and a steady, reliable broadband internet connection for the duration of your exam.
The exam is 180 minutes long.
The exam includes 140 questions.
You may skip questions and / or mark them to revisit before the end of the exam. Negative marking is not applied.
If you fail, you may retake the exam a further two times free of charge.
You will have 180 days of access from the date you first access the online portal to study and prepare for your exam. You decide when you're ready to schedule your exam.
When it's time to schedule your exam, navigate to the FAQs section of your online portal. Here, you can download a step-by-step guide that walks you through your exam scheduling process.
Once your exam has been scheduled, you will receive an email confirmation of your exam time and date. This email includes detailed instructions for joining your online exam. (Don't forget to check your junk mail and spam folder for your exam confirmation)
Please take time to read through the exam instructions carefully and note when you will need to log on for your online exam.
You will need to switch on your webcam, speakers and microphone for the duration of the exam.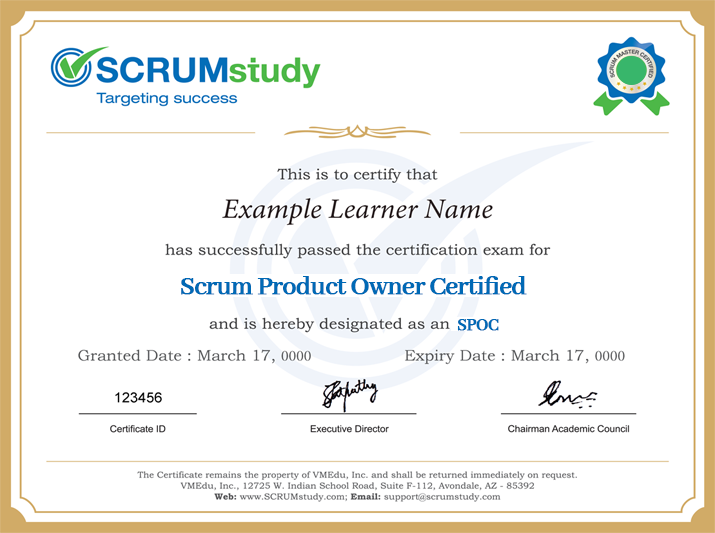 Why choose this Scrum Product Owner Certification?
Knowing how to successfully carry out the role of Scrum Product Owner and holding a valid certification are valuable assets for any project manager. When choosing your training and certification, you must be sure that what you select enables you to achieve those goals.
Our Scrum Product Owner Certification is awarded by SCRUMstudy, the largest provider of Scrum and Agile certifications worldwide. SCRUMstudy is unmatched in terms of global reach and resources for students.
Frequently Asked Questions
Learn Scrum On The Move
Stay Connected
Keep your learning momentum going wherever you are. With access to the handy mobile app for your online Scrum course, you can study on your own schedule.
Scrum Online Benefits
Robust Certification
The SCRUMstudy certifications you'll achieve with us are respected and recognised all over the world.
Learn from Home
Online training means you don't have to travel anywhere to get skilled and certified.
Skills for Every Industry
With our online training, you'll learn skills you can apply in any kind of business or situation.
Track Your Progress
Chapter tests and progress trackers help you to stay focused and lock in your learning as you go.
Scrum Fundamentals
All our online Scrum & Agile courses include the Scrum Fundamentals Certification (SFCTM).
Accessibility
You'll also gain access the mobile app, so you can get access to all course material on the go.
Ready to get Scrum Certified?

Online Training, Exam, & Certification – Boost your credibility and advance your scrum knowledge, role and career.
Join the long list of clever companies